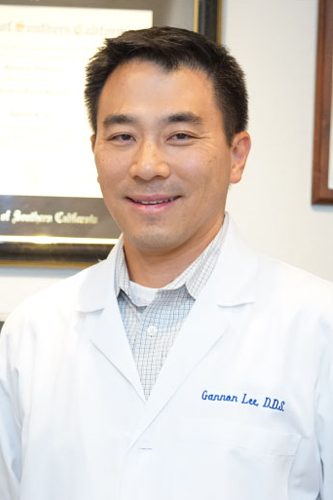 DR. GANNON LEE
Dr. Gannon Lee is an Orange County native who has been practicing dentistry for twenty years.  Dr. Lee earned his dental degree from the University of Southern California, after earning his bachelor's degree in Biological Sciences from the University of California, Irvine.
After nearly a decade in his private practice in Encinitas, California, Dr. Lee decided to relocate back to Orange County. It was a very difficult decision to leave good friends, patients, and relationships he has built up over the years. However, he and his wife had just welcomed a baby girl to their family and they realized it was the best choice to relocate back to be closer to family. Dr. Lee was a former Junior Olympic swimmer and in his free time, still enjoys swimming. He is also an avid Los Angeles Lakers fan and cheers for his USC Trojans. Aside from patient care, he and his wife are busy raising two wonderful girls: Elise and Kathryn.
Dr. Lee's commitment to lifelong education means that he is constantly evaluating emerging dental methods and technologies in order to provide his patients with the best results in the least invasive manner. He is a member of the world-renown Spear Study Group. He places a high emphasis on comfort and serving each patient individually. Dr. Lee first became interested in TMJ Dysfunction and Sleep Apnea Management due to his own problems battling the syndromes. Realizing simple "night guards" and "snore guards" were not the answer, Dr. Lee has intensely studied, researched, and joined organizations that provide excellent solutions for these problems. He has a particular interest in TMJ dysfunction and how it relates to upper airway resistance syndrome (UARS). The syndrome is often linked to anxiety, insomnia, and headaches. He is also contracted with a few medical insurance plans to assist patients with their TMJ dysfunction, orofacial pain, and obstructive sleep apnea. He has completed mini-residencies in TMD and Orofacial Pain from UCLA and Dental Sleep Medicine at UC San Francisco. All of this commitment ensures you the highest level of care, both today and tomorrow.
He is a member of the American Dental Association, American Academy of Craniofacial Pain, American Academy of Orofacial Pain, and the American Academy of Dental Sleep Medicine. He has furthered his education excellence by becoming board certified and holds Diplomates from the American Board of Dental Sleep Medicine and the American Breathing and Sleep Academy. Dr. Lee is also a lecturer at OLLI at UC Irvine on the topics of dentistry and sleep apnea. He has also been a part of a few medical mission trips with his church. Twice to Vietnam, once to Guatemala, and most recently, to Indonesia.
EDUCATION:
D.D.S. Degree from University of Southern California (USC), 2001
B.S. in Biological Sciences from University of California, Irvine (UCI), 1997
Dental Sleep Medicine Mini-Residency from University of California San Francisco
Temporomandibular Disorder / Orofacial Pain Mini-Residency from University of California Los Angeles
CERTIFICATIONS:
Diplomate status from American Board of Dental Sleep Medicine
Diplomate status from American Sleep and Breathing Academy
Laser Dentistry Certified University of San Francisco
Invisalign Certified
Denmat Lumineer Certified
Zoom Certified
CEREC Certified
MEMBERSHIPS:
American Academy of Dental Sleep Medicine
American Academy of Orofacial Pain
American Sleep and Breathing Academy
American Academy of Craniofacial Pain